Celebrating our Library Student Assistants
Item request has been placed!
×
Item request cannot be made.
×
Processing Request
Our library student assistants play a huge role in helping the library provide excellent customer support, not to mention ensuring we can stay open as late as we do in the evenings and across weekends.  Our program is designed to develop skills, to encourage team-building and to build a sense of community.  We have a very strongly-knit group of hardworking students who deserve our recognition.
Every year we celebrate our student assistants' contributions, their hard work and energy by hosting an event of thanks. 
On Tuesday, April 25th, our Library Supervisors, assistants, and clerks from the Public Services Team hosted this year's event in our library staff room. Student assistants were treated to a spread of snacks and presented with certificates of appreciation.  Additionally, all attendees participated in a challenging Kahoot flag quiz, with three students Laith, Lama and Karim ultimately emerging as the victors after very fierce competition!
A huge thank you from the library team to all our Spring 2023 student assistants!  We appreciate all that you do for us.  All the best with finals!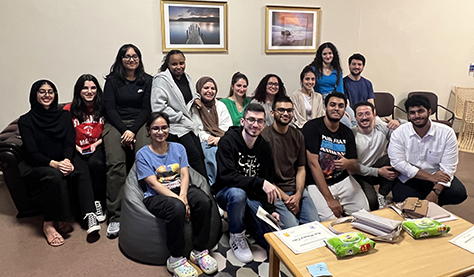 Are you interested in working as a Library Student Assistant?
Read about our Student Employment program.
Applications for the Fall 2024 semester open 2 weeks before classes start to the end of the first week of classes.